Land-based
Sky & Telescope has prepared an astronomy expedition that adds a memorable dimension to your eclipse viewing experience. After getting a look at the bright lights of Sydney, we head out to the quiet, dark, "bush" countryside to visit the famous Parkes Dish radio observatory. We'll head up Australia's astronomy corridor to Coonabarabran, home of the Australian National Telescope and 12 other telescopes. Get two evenings of Southern Hemisphere star gazing in along the way. Then we're off to Cairns region, where we'll view the eclipse and visit the Great Barrier Reef. Depending on weather and your preference, you have viewing options at the beach, and on the ground or aloft in a balloon at Mareeba.
Take advantage of a unique opportunity and privileged access within Australian astronomy. Review complete program details about itinerary and activities, how to book your reservation, and the fun and wonder in store. Ask us about optional Qantas trip extensions to deepen your exploration of Australia. Book before July 31 and save $500 on this Sky & Telescope expedition.
For questions, please don't hestitate in calling InSightCruises.com (650-787-5665) or emailing Concierge@InSightCruises.com.


Watch the Eclipse from a Luxurious Cruise Ship
Land-based
Let Sky & Telescope help you get the most out of the eclipse and the glories of Down Under. Join us November 8–15, 2012 for a swing through Australia, astronomy-style.
Join Greg Bryant, Editor of Australian Sky & Telescope, to bring you eclipse expertise, the latest on Australian astronomy, and a behind-the-scenes look at the innovative instrumentation and research found in Oz.
See beyond the obvious. We'll orient ourselves in Sydney, enjoying its fresh vibe and hear the latest on Australian astrophysics research from University of Sydney astrophysicist Julia Bryant, Ph.D. Then off to Australia's astronomy corridor. We'll visit "The Dish" at Parkes and the Siding Spring Observatory at Coonabarabran (Astronomy Capital of Australia).
North to Cairns, with suspense building. While we're in the neighborhood, we'll unwind with a visit to the Great Barrier Reef. After the eclipse, if you'd like to move on to Uluru, the wine country, wildlife viewing, and beyond, we can make your concept a reality. S&T is poised to assist you to extend and customize your journey with pre- and post-packages as you wish.
| | | |
| --- | --- | --- |
| | | Download a two-page flyer |
Map out a robust intellectual adventure. Reserve now, and join kindred spirits in a timeless moment. Visit http://www.insightcruises.com/SolarEclipse
Cruise-based
We're heading out on a roundtrip Sydney itinerary that adds a memorable dimension to your eclipse viewing experience. After getting a look at the bright lights of Sydney, we set sail toward optimal eclipse viewing circumstances south of New Caledonia, getting Southern Hemisphere star gazing in along the way. Accompanied by Sky & Telescope Editor Bob Naeye and other astronomers, we'll delve into eclipse details and astronomy Down Under. Your South Pacific sojourn includes three ports of call in New Caledonia (Noumea, the capital; Lifou; and Île des Pins, "the closest island to Paradise") and three days sailing amidst the Great Barrier Reef.
Take advantage of an uncommon opportunity to experience Australia, the Great Barrier Reef, and the South Pacific, punctuated by totality, on Holland America Line's ms Oosterdam, sailing roundtrip Sydney, Australia November 7–21, 2012. Find complete program details about itinerary and activities, how to book your reservation, and the fun and wonder in store at http://www.insightcruises.com/Sky-5 or call 650-787-5665 or email Concierge@InSightCruises.com for full details. Ask us about optional Qantas trip extensions to deepen your exploration of Australia. Book before September 1 and save up to $300 on this Sky & Telescope expedition. Please join us!
: : : : : : : : : : : : : : : : : : : : : : : : :
Dr. David Stevenson (left) is the George van Osdol Professor of Planetary Science at the California Institute of Technology and an expert on the origin, evolution, and structure of planets. He obtained a Ph.D. in theoretical physics at Cornell University in 1976, where he worked on the interior of Jupiter. He has been on the faculty at Caltech since 1980. His research highlights include the development of the idea that Jupiter and Saturn have helium rain deep down, proposed explanations for the magnetic fields (or their absence) for planetary bodies, identification of an ocean in Europa by magnetic field measurements, explanations for both the remarkable similarities and some differences between Earth and Moon, and an explanation for why Venus has no moon. His awards and honors include membership of the National Academy of Science, Fellow of the Royal Society (London), the Urey Prize (awarded by the American Astronomical Society) and the Hess Medal (awarded by the American Geophysical Union).
: : : : : : : : : : : : : : : : : : : : : : : : : : : : : : : : : : : : : : : : : : : : : : : : : : : : : :
NEW from InSight Cruises!
We're starting to make an assortment of InSight Cruises' classes available online. Currently you can watch two talks with Space Shuttle astronaut Dr. Guion Bluford (left) from Bright Horizons 6; half dozen classes from MacMania 10; eight classes from Bright Horizons 7 and 9, and four classes from Sky & Telescope's Cosmic Trails #1. All the way to the left, in column one, is CalTech' David Stevenson. Three of his Cosmic Trails #1 classes are available.
Visit our videos page to access them all!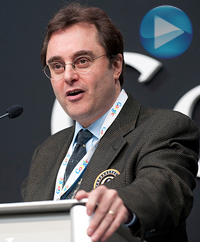 The Quest for Mars (Delivered on Dec. 21, 2010)
Speaker: Andrew Chaikin
Dreamers and space scientists, engineers and biologists, backyard astronomers and artists have devoted their lives — sometimes at the expense of their careers — to the quest for Mars. Andrew Chaikin, who covered Mars exploration as a science journalist and took part in the first Mars landing, chronicled this epic quest and the enduring dream of going there in his book, A Passion for Mars. Chaikin will share the story of Earthbound explorers and their robotic surrogates caught in the irresistible pull of the Red Planet.

: : : : : : : : : : : : : : : : : : : : : : : : :

June 4 — Full day of classes:
Learn all about the Transits of Venus, past and present from Sky & Telescope Editor Robert Naeye. He and other famous astronomy speakers will be delivering several talks over the next couple of days. In addition to the talk described below, other scheduled talks include:
The Hubble Space Telescope's Greatest Scientific Achievements
Asteroid Impact Threat
Cassini at Saturn, Part 1: The Planet and Rings
Cassini at Saturn, Part 2: The Moons

"Transits of Venus" class
Transits of Venus across the face of the Sun (as seen from Earth) are among the rarest predictable spectacles in astronomy. Unless medical science invents some way to extend human life well beyond 100 years, the June 5, 2012 transit of Venus will likely be the last one anyone alive today will ever see. The next Venus transit won't take place until December 2117 — 105 years from now. Transits of Venus always take place in pairs eight years apart, with the pairs separated by long intervals of either 105.5 or 121.5 years. Sky & Telescope editor Bob Naeye will explain the rare geometric aligments that must take place for transits of Venus to occur, and why they occur so infrequently and in a particular pattern. He will provide a historical overview of Venus transits, which scientists used to discover Venus' atmosphere and measure the distance between Earth and the Sun. Bob, who watched the entire 2004 Venus transit from the tomb of Cyrus the Great (founder of the Persian Empire) in Iran, will describe how to view the transit safely, and what you can expect to see when Venus crosses the disk of the Sun.
Pricing and terms and all the fine print.

: : : : : : : : : : : : : : : : : : : : : : : : : : : : : : : : : : : : : : : : : : : : : : : : : : : : : :
June 3–7, 2012
Experience the Transit of Venus in an otherworldly setting. Join Sky and Telescope's Bob Naeye on the Aloha State's astronomy-oriented Big Island of Hawaii for a memorable transit expedition. We'll stay a the Waikoloa Beach Mariott Resort and Spa, home to gracious Hawaiian hospitality, exotic scenery, and classic sunsets.
Editor-in-chief Naeye sets the scene with background on transits of Venus and the latest in planetary science.
Transit day you'll head up Mauna Kea above the clouds to 9,300 feet, based near the Mauna Kea VIS and the viewing sites of Hawaii's pro-am astronomy clubs. You can opt to ascend to Mauna Kea's observatory-clustered peak at 14,000 feet, visit the Keck Observatory, and take in an unforgettable view of Transit progress.
To ice the cake, June 6, 2012 we'll visit Keck Observatory Headquarters in Waimea and learn about Keck's current endeavors plus get a privileged behind the scenes look at Keck's command and control center.
When it's time for transit viewing, go where the pros go — Mauna Kea, with Sky & Telescope. Reserve your adventure now by visiting or call InSight Cruises at 650-787-5665. Aloha!
| | | |
| --- | --- | --- |
| | | Download a one-page flyer |