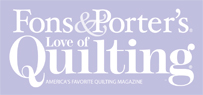 Love of Quilting Itinerary
Southern Caribbean • December 3–10, 2010
JODIE DAVIS
Jodie can't imagine life without making things. So it is no wonder that she lists her occupation as "quilting enabler." Jodie's goal is simple: to share the joy of quilting.
As the author of thirty quilting books and a travelling teacher, Jodie looked to the airwaves to reach more people in her mission of spreading the joy of quilting. Right out of the box the very first episode of her first series, Friends in the Bee, earned Jodie accolades, and convinced Jodie that the Internet offers quilters and the quilting industry the place they needed to control the quilting airwaves. From hosting and developing shows, Jodie soon found herself at the helm of QNNtv.com, the Internet television channel devoted exclusively to quilting.
Jodie hosts two monthly series exclusively on QNNtv.com: Quilt Out Loud, a magazine-style show she co-hosts with Mark Lipinski and Quilt It! The Longarm Quilting Show, a studio show she hosts with invited experts joining her for each episode. Watch QNNtv.com for Jodie's block-of-the-month series, and QuiltersClubofAmerica.com for her tips and Sew Easy Lessons. It's all about sharing the fun—and you're invited!
MARIANNE FONS
Marianne Fons is well known to quilters as longtime co-host of Love of Quilting on public television. She has co-authored many quilting books, including Quilter's Complete Guide, one of the most popular quilting books ever written. Marianne enjoys making quilts now just as much as she did when she first learned as a young mother in her 20s. Her non-quilting pursuits include yoga, gardening, Scrabble, and travel.
JEAN NOLTE
Jean Nolte is the editor of all the Fons & Porter magazines, and is also the editorial director of Love of Quilting on public television. She has been quilting for nearly thirty years, and is always excited to try a new technique. Her fabric stash contains more yardage than she could possibly use in a lifetime, but she is having lots of fun trying. When not quilting, she loves to travel, knit, or spend time with her family.
264 S. Meridith Ave., Pasadena, CA 91106 • 650-787-5665 • Copyright 2010 © InSight Cruises