ZVI BEN-AVRAHAM, PH.D.
Zvi Ben-Avraham, Ph.D. is Professor of Geophysics, the Mikhael Moshe Nebenzahl and Dr. Amalia Grossberg Chair in Geodynamics, and Director of the Minerva Dead Sea Research Center in the Department of Geophysics and Planetary Sciences at Tel Aviv University in Israel. Dr. Ben-Avraham is the Founding Director of the Leon Charney School of Marine Sciences at the University of Haifa, Mount Carmel, Israel, and is the Max Sonnenberg Professor of Marine Geoscience in the Department of Geological Sciences, University of Cape Town (now part-time).
Dr. Ben-Avraham was born in Jerusalem, Israel, and received his B.Sc. in Geology from The Hebrew University. He earned his Ph.D. in Geophysics from the Massachusetts Institute of Technology and Woods Hole Oceanographic Institution. Ben-Avraham undertook a post doctoral fellowship at Woods Hole in 1973, followed by a senior research fellowship at the national research institution Israel Oceanographic and Limnological Research Ltd. in 1973–75. He worked in the Department of Applied Mathematics, Weizmann Institute of Science, Rehovot, Israel as a researcher, 1975–76; senior researcher 1976–81, and Associate Professor, 1981–82. Dr Ben-Avraham was a Visiting Associate Professor, Department of Geophysics, at Stanford University from 1979–1982, and then a Research Professor of Geophysics there from 1982–1989. In 1982 Ben Avraham was appointed Associate Professor of Geophysics at Tel Aviv University, and from 1986 to the present, he has served as Professor of Geophysics. From 1989 to the present he has also served as the Max Sonnenberg Professor of Marine Geoscience, University of Cape Town. Dr. Ben-Avraham was a Visiting Professor at Vrije Universiteit, Amsterdam, the Netherlands in 2001, and at University of California, Los Angeles in 2005. In 2007 he founded the Charney School of Marine Sciences, University of Haifa.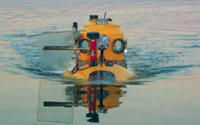 Known to tool around in, yes, a yellow submarine, Dr. Ben-Avraham studies regional and global tectonics. Currently, one of his main interests is the Dead Sea fault and its unique and fragile regional ecosystem. At the Minerva Dead Sea Research Center, Ben-Avraham collaborates with fellow experts from Jordan's National Research Authority in Amman, universities in Jordan, and Palestinian professors from Al-Najah University in Nablus and Al-Quds University in East Jerusalem, along with other Israeli, German, American, Jordanian and Palestinian scientists and graduate students. Fueled by the knowledge that the Dead Sea fault has implications for the daily lives of people living in related areas (Lebanon, Syria, Jordan, Palestinian Authority, Israel, Saudi Arabia, and Egypt) Dr. Ben-Avraham and his colleagues study the area's climate change, geological structure, tectonic evolution, and seismic history, as well as the region's man-made processes in order to advance and affect public awareness and decision policies bearing on the Dead Sea fault zone.
Zvi Ben-Avraham was awarded the Israel Prize in 2003 for his many contributions to the understanding of regional and global tectonics. This is the highest award that the State of Israel can bestow upon a citizen.
MICHAEL COEY, PH.D.
Michael Coey, Ph.D., Ireland's most highly-cited scientist, was born in Belfast, Northern Ireland. He is an experimental physicist who has studied magnetism and magnetic materials at Trinity College for the past 30 years, where he is Erasumus Smith's Professor of Natural and Experimental Philosophy. Dating from 1729, this was one of the first chairs of physics in the world.
Dr. Coey received his B.A. degree in natural science from Cambridge University in 1966, and a Ph.D. from the University of Manitoba in 1971. He worked as a researcher for the Centre National de la Recherche Scientifique in Grenoble the 1970s, with a spell at the IBM Research Center in Yorktown Heights, NY, before moving to Trinity College Dublin.
Dr. Coey has broad interests in magnetism, spanning almost every sort of magnetic material, as well as magnetic devices and phenomena; his interests extend to chemical and biological effects of magnetic fields. He coordinated the Concerted European Action on Magnets (1985 – 1995), a pioneering group of 80 academic and industrial researchers devoted to all aspect of the understanding, development, an application of rare-earth iron permanent magnets. In addition to his research and teaching at Trinity College, he founded the Science Gallery there, and promoted the establishment of CRANN, Ireland's nanoscience research centre, of which he was Deputy Director. Dr. Coey is the author of more than 500 scientific papers, 20 patents, and several books, including Magnetism and Magnetic Materials, published in 2010.
Dr. Coey is a Fellow of the Royal Society, a member of the Royal Irish Academy, and a foreign associate of the United States National Academy of Sciences. He holds an honorary doctorate from the University of Grenoble, and he was the recipient of the Royal Irish Academy's Gold Medal in 2005.
STEVEN J. DICK, PH.D.
Steven J. Dick, Ph.D. served as NASA Chief Historian and Director of the NASA History Office from 2003–2009. He obtained his B.S. in astrophysics (1971), and M.A. and Ph.D. (1977) in history and philosophy of science from Indiana University. Before coming to NASA Headquarters he worked as an astronomer and historian of science at the U.S. Naval Observatory in Washington, D.C. for 24 years, including three years on a mountaintop in New Zealand. Among his books are Plurality of Worlds: The Origins of the Extraterrestrial Life Debate from Democritus to Kant (1982) (translated into French), The Biological Universe: The Twentieth Century Extraterrestrial Life Debate and the Limits of Science (Cambridge University Press, 1996), and Life on Other Worlds (1998), the latter translated into Chinese, Italian, Czech, Greek and Polish. He is also the author (along with Dr. James Strick) of The Living Universe: NASA and the Development of Astrobiology (2004), and a comprehensive history of the U.S. Naval Observatory, Sky and Ocean Joined: The U. S. Naval Observatory, 1830–2000 (2003). The latter received the Pendleton Prize of the Society for History in the Federal Government. He served as editor of Many Worlds: The New Universe, Extraterrestrial Life and the Theological Implications (2000), and (with Dr. Keith Cowing) Risk and Exploration: Earth, Sea and Stars (NASA SP-2005-4701). His latest edited volumes are (with Dr. Roger Launius) Critical Issues in the History of Spaceflight (NASA SP-4702, 2006) and Societal Impact of Spaceflight (NASA SP 4801, 2007), as well as Remembering the Space Age (NASA SP-2008-4703) and Cosmos and Culture (NASA SP-2009). He is editor of the NASA 50th anniversary publications, America in Space (with Neil Armstrong, et al.) and NASA's First 50 Years: Historical Perspectives.
Dr. Dick is the recipient of the NASA Exceptional Service Medal, the Navy Meritorious Civilian Service Medal, the NASA Group Achievement Award for his role in NASA's multidisciplinary program in astrobiology, the NASA Group Achievement Award for the book America in Space, and the 2006 LeRoy E. Doggett Prize for Historical Astronomy of the American Astronomical Society. He has served as Chairman of the Historical Astronomy Division of the American Astronomical Society, as President of the History of Astronomy Commission of the International Astronomical Union, and as President of the Philosophical Society of Washington. He is a corresponding member of the International Academy of Astronautics. In 2009 minor planet 6544 Stevendick was named in his honor.
JAMES GILLIES, PH.D.
Dr. James Gillies is head of communication at CERN, the European Organization for Nuclear Research. He holds a Doctorate in physics from the University of Oxford, and began his research career working at CERN in the mid-1980s. His thesis covered the internal structure of the proton, and was carried out in a multi-national collaboration of mainly European universities. As a post doctoral researcher, he moved on to the OPAL experiment at CERN's flagship research facility, the Large Electron Positron collider (LEP), which ran from 1989 to 2000.
In 1993, he left research to become Head of Science with the British Council in Paris. After managing the Council's bilateral programme of scientific visits, exchanges, bursaries and cultural events for two years, he returned to CERN in 1995 as a science writer. His work at the British Council ranged from negotiating student exchange programmes for top French and UK Universities, to organizing a drawing competition for school children in conjunction with the BBC's youth magazine programme, Blue Peter, and the French magazine Science et Vie Junior.
He has been Head of the Organization's communication group since 2003, a period in which CERN has celebrated its 50th anniversary and launched its latest research facility, the Large Hadron Collider. The 2008 LHC first-beam media campaign run by his team made CERN and the LHC household names around the world, and with an estimated global audience of a billion viewers, the LHC start-up was possibly the most visible scientific event in history.
He is co-author of the Oxford University Press title, How the Web was Born, a history of the Internet published in 2000 and described by the London Times as being among the year's ten best book for inquisitive minds.
JEANETTE NORDEN, PH.D.
Jeanette Norden, Ph.D., is a Neuroscientist and Professor of Cell and Developmental Biology in the Vanderbilt University School of Medicine. For over 20 years, she conducted research on nerve regeneration, focusing on GAP-43, a protein involved in nervous system development, regeneration, and plasticity. Since 1998, she has devoted her time to medical/graduate/undergraduate education. Dr. Norden is currently the Director of Medical Education in the Department of Cell and Developmental Biology. She has been a maverick in Medical Education, stressing not only intellectual, but also personal and interpersonal development in students. Her emphasis on personal development and her innovative approach in integrating 'humanity' into a basic science course has been recognized at Vanderbilt and nationally.
Dr. Norden has won every award given by medical students, including the Shovel (twice; given by the graduating class to the faculty member who has had the most positive influence on them in their four years of medicine), the Jack Davies Award (six times; for teaching excellence in the basic sciences), and the Outstanding Teacher of the Year Award (four times). She was also awarded the first Chair of Teaching Excellence at Vanderbilt University, and was the first recipient of both the Gender Equity Award of the American Medical Women's Association, and the Teaching Excellence Award given by the Vanderbilt Medical School. In 2000, Dr. Norden was the recipient of the Robert J. Glaser Award, a national teaching award from the Alpha Omega Alpha Honor Society of the American Medical Association. In recognition of her devotion to helping medical students develop into caring, compassionate physicians, she was awarded the 2008 Professional Award from The Compassionate Friends, an international support group for bereaved parents.
Dr. Norden participates in numerous outreach programs in Nashville and the surrounding communities by going to schools or by giving public talks on psychoactive drugs, the aging brain, and other topics related to the Neurosciences. For a number of years, she has taught extremely popular courses in Neuroscience as part of Retirement Learning at Vanderbilt. She has traveled extensively to foreign countries to give scientific presentations, talks and workshops on teaching, or to teach Medical School (Nepal); in 2004, she was a delegate to AIDS clinics in rural South Africa as part of a cross cultural humanitarian and educational program in palliative care. Dr. Norden served as the external reviewer for a Keck Foundation grant to revise undergraduate science education in 16 colleges in the South. She was highlighted as one of the most effective teachers in America in What the Best College Teachers Do (K. Bain, Harvard University Press, 2004), and was the focus of a documentary made by the Korean Public Broadcasting network on Teaching Excellence in America. Dr. Norden has been invited to give nearly 100 presentations on teaching at Universities and Medical Schools. In 2007, she completed a 36-lecture DVD Understanding the Brain as part of the Great Courses series for The Teaching Company in an effort to help inform the public about the brain and common neurological disorders.
JAMES WELSH, M.D.
James Welsh, M.D. is a Clinical Professor in the Departments of Medical Physics and Human Oncology at the University of Wisconsin School of Medicine and Public Health in Madison, Wisconsin and is board certified in Radiation Oncology and Neuro-Oncology. He received his B.A. from SUNY Binghamton and his Master's degree in molecular biophysics and biochemistry from Yale University. He obtained his M.D. from SUNY Stony Brook in 1994 and went on to residency training at The Johns Hopkins Hospital. He stayed on faculty at Johns Hopkins as an Assistant Professor of Oncology and was awarded the Johns Hopkins Oncology Center Director's Teaching Award in Clinical Science in 1999. He has taught or lectured in numerous courses at the college, graduate school, and medical school levels.
Dr. Welsh is presently on the Board of Chancellors for the American College of Radiation Oncology and is Associate Editor for the American Journal of Clinical Oncology. Dr. Welsh has served as the Scientific Program Chair for the American College of Radiation Oncology and Chair of the Radiation Oncology & Radiobiology Subcommittee for the Scientific Program of the Radiological Society of North America. He is currently on the Government Relations, History, and Education Committees for the American Society of Therapeutic Radiology & Oncology (ASTRO) as well as the Committee on Education/Commission on Radiation Oncology for the American College of Radiology. He has held the position of medical subspecialty representative on the Wisconsin Genetics Advisory Council of the Wisconsin Division of Public Health. Dr. Welsh presently serves the United States Nuclear Regulatory Commission as a member of the Advisory Committee on the Medical Use of Isotopes.
Dr. Welsh has authored numerous peer-reviewed articles and book chapters and has clinical research interests in image-guided intensity modulated radiation therapy, electronic brachytherapy, radioimmunotherapy, and particle (hadron) therapy. His basic science interests include radiobiology of dose-rate, immunological effects of ionizing radiation, biology of brain tumors, and the biological effects of terrestrial radiation over geological history as well as paleontological applications of megavoltage CT imaging.