ANDREW CHAIKIN
Award-winning science journalist and space historian Andrew Chaikin has authored books and articles about space exploration and astronomy for more than 25 years. Writer, director, and explorer James Cameron (Titanic, Aliens of the Deep) called him "our best historian of the space age." Chaikin is best known as the author of A Man on the Moon: The Voyages of the Apollo Astronauts, widely regarded as the definitive account of the moon missions. First published in 1994, this acclaimed work was the main basis for Tom Hanks' 12-part HBO miniseries, From the Earth to the Moon, which won the Emmy for best miniseries in 1998. Chaikin spent eight years writing and researching A Man on the Moon, including over 150 hours of personal interviews with 23 of the 24 lunar astronauts (Apollo 13's Jack Swigert was already deceased). Apollo moonwalker Gene Cernan said of the book, "I've been there. Chaikin took me back."
From 1999 to 2001 Chaikin served as Executive Editor for Space and Science at SPACE.com, the definitive website for all things space. He was also the editor of SPACE.com's print magazine, Space Illustrated. Chaikin is a commentator for National Public Radio's Morning Edition, and has appeared on Good Morning America, Nightline, and the NPR programs Fresh Air and Talk of the Nation. He has been an advisor to NASA on space policy and public communications. A former editor of Sky & Telescope magazine, Chaikin has also been a contributing editor of Popular Science and has written for Newsweek, Air&Space/Smithsonian, World Book Encyclopedia, Scientific American, and other publications. A graduate of Brown University, Chaikin served on the Viking missions to Mars at NASA's Jet Propulsion Laboratory, and was a researcher at the Smithsonian's Center for Earth and Planetary Studies before becoming a science journalist in 1980. He is an amateur musician and songwriter; he has also been an occasional space artist, and is one of the founders of the International Association of Astronomical Artists.
Chaikin collaborated with moonwalker-turned-artist Alan Bean to write Apollo: An Eyewitness Account, published in 1998 by the Greenwich Workshop Press. He also co-edited The New Solar System, a compendium of writings by planetary scientists, now in its fourth edition. His essays include the chapter on human spaceflight in The National Geographic Encyclopedia of Space, published in 2004, and Live from the Moon: The Societal Impact of Apollo for NASA's 2007 book The Societal Impact of Spaceflight.
Chaikin's newest books, co-written with Victoria Kohl, are Voices from the Moon (Viking Studio) featuring excerpts from his conversations with Apollo astronauts, and Mission Control, This is Apollo (Viking Childrens) a book for young readers illustrated with paintings by Apollo moonwalker Alan Bean. Both were published in May 2009. A Passion for Mars was published in September 2008 by Abrams.
SUSAN FRENCH
Susan French is a leading amateur astronomer and contributing editor for the world's top popular magazine of astronomy, Sky & Telescope. She has been described as "a deep sky nut with too many telescopes."
"I'm an amateur astronomer in the original sense of that word amateur — I do it for the love of it," says French. Her interest in the subject was sparked initially by college physics courses, and renewed when, as a homebound mother, she sought intellectual stimulation and settled on the subject of astrophysics. That led to attendance at local astronomy lectures, and to the meetings of the Albany Area Amateur Astronomers, where Sue met Alan French. "He convinced me to build telescopes, and I convinced him to look through them," she says.The Frenches were married in 1985, and remain leaders of the Amateur Astronomers group.
In addition to currently serving as the chairperson of Albany Area Amateur Astronomers' "Star Party" observing events, Sue French is also Emeritus Trustee of the Board of the Dudley Observatory in Schenectady, the nation's oldest organization dedicated to the support of astronomical research. For many years she ran the Schenectady Museum's planetarium.
Ms. French has gained a worldwide following with her "Deep-Sky Wonders" column in Sky & Telescope. Her expert opinions and tips can also be found in her book, Celestial Sampler: 60 Small-Scope Tours for Starlit Nights.
GARY SERONIK
An experienced lecturer, observer, and equipment reviewer Gary Seronik has been in the astronomy game for more than three decades. Indeed, he began subscribing to Sky & Telescope magazine in 1973 when he was only 12 years old! In the early 1990's, Gary's passion for sharing the wonders of the night sky eventually lead him to the H.R. MacMillan Space Centre in Vancouver, BC, where he wrote and produced planetarium shows. In 1996 he began writing for S&T and joined the staff full-time as an associate editor in 1998. He is currently a contributing editor.
Gary enjoys a wide range of observing pursuits from studying intricate details on the surface of the Moon to seeking out faint fuzzies at the limits of perception. One of his favorite activities is binocular observing — as regular readers of S&T know from his popular monthly Binocular Highlight column. A compilation of his articles, Binocular Highlights: 99 Celestial Sights for Binocular Users has recently been assembled into a highly successful book that has reached #1 in its category at Amazon.com several times.
But when it comes to his absolute favorite telescope target, Gary will quickly tell you that for him, nothing beats the Moon. His lunar observing and imaging skills are put to good use at S&T. Gary served as editor for the new edition of Anton'n Rükl's classic Atlas of the Moon and for Charles A. Wood's highly regarded book, The Modern Moon. But of all the Moon products he has helped bring to fruition, Gary is proudest of the recently published Field Map of the Moon, which he regards as the ideal telescopic companion for dedicated lunatics like himself.
Over the years Gary has ground mirrors for numerous homebuilt telescopes, several of which have appeared in the pages of S&T. His current favorite instrument is a 12.75-inch Dobsonian travelscope, which has already flown with him to a number of far-flung locations, including Costa Rica. His knowledge of optics and equipment serve him well as the author of S&T's Telescope Workshop column and as a reviewer for S&T Test Report.
Gary continues to enjoy exploring the night sky and making telescopes from his home near Victoria, British Columbia. In addition to his on-going contributions to S&T, he has several books in the works (including an observer's guide to the Moon) and writes the On The Moon column for the Canadian astronomy magazine, SkyNews. His web address is www.GarySeronik.com.
WALLY PACHOLKA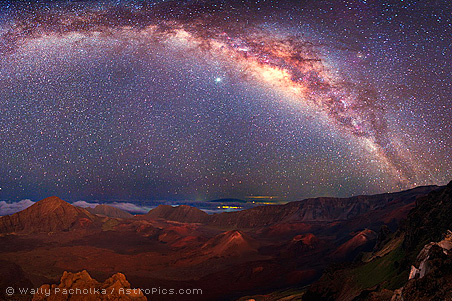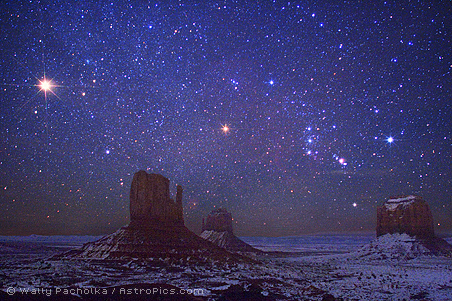 When Wally Pacholka was nine years old, his parents kept wondering what in the world he was doing up on the roof for all hours of the night. When questioned on the subject, he replied, "I just love looking at the stars, don't you???". He soon found out that not only his family, but most of his friends, didn't have this same interest and fascination with the night sky as he did. He soon set out to change that, by buying a used camera and tripod at a pawn shop with paper route money, to show them some of the fascinating things he was seeing in the night sky, night after night. They and everyone who saw his images were impressed. That was 40 years ago, yet today he is still at it with basically the same type of equipment, a 35mm camera and tripod — however rather than just fascinating close friends, he has fascinated millions with his landscape astro-photography that has graced some of the most prestigious magazines and books in the world. In 1997 when great comet Hale-Bopp made its 13-month naked eye visit to Earth most astronomers and photographers used their longest telephoto lenses and telescopes to capture its beauty in stunning detail. Pacholka took a different approach and used his standard 35mm lens with tripod, yet included terrestrial landscape in each shot with the comet skyscapes above. That technique made Pacholka an instant celebrity with images in major newspapers and magazines worldwide including National Geographic, Encyclopedia Britannia, and the coveted TIME Magazine Picture of the Year.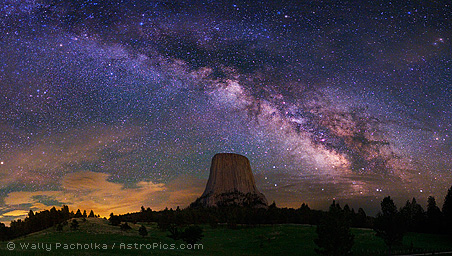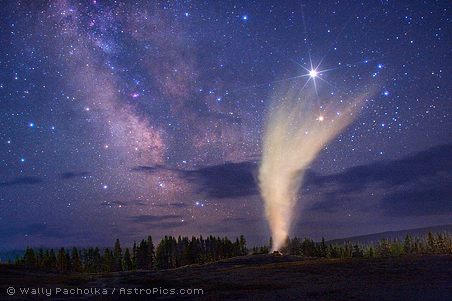 In 2003 with the 60,000-year-close-encounter-of Mars event, Pacholka set out to achieve the TIME Picture of Year award for that event to prove to himself the 1997 accomplishment was no fluke. He not only made TIME Picture of Year again, but also LIFE Picture of year with a second outstanding image of Mars over landscape scenery.
Currently Pacholka is focused on his photographic series project titled "America the Beautiful at Night" where he is photographing the fascinating night skies over America's key national parks and landmarks. This multi-year project has earned him 35 NASA APOD's, a world record for an individual. Besides an amazing three pages in LIFE's 2009 magazine "Hidden America", S&T's "Beautiful Universe 2009" has seven of his images including the cover image. The just released "Beautiful Universe 2010" with the words "The World's Best Astro-Photography" on the cover has three full two-page spreads of his national park night sky work. All this achieved using a 35mm camera on a basic photographic tripod but with a determination to hike the national parks at night to enable folk to see what he sees, the fascinating night skies that are there night after night. Whether he has given his slide presentations to crowds on the top of Mauna Kea in Hawaii or to folk in Death Valley, he has inspired thousands with the beauty of the night sky and how relatively easy it is to record it using some basic equipment and landscape astro-photography techniques.
To see more of Wally's images, visit his website.
DAVID STEVENSON, PH.D.
Dr. David Stevenson is the George van Osdol Professor of Planetary Science at the California Institute of Technology and an expert on the origin, evolution, and structure of planets. He is a New Zealander who came to the United States as a graduate student, obtaining a Ph.D. in theoretical physics at Cornell University in 1976, where he worked on the interior of Jupiter. Most of his subsequent career has been in the USA and he has been on the faculty at Caltech since 1980, serving as a Division Chair and Chair of the Faculty along the way. His research highlights include the development of the idea that Jupiter and Saturn have helium rain deep down, proposed explanations for the magnetic fields (or their absence) for planetary bodies, identification of an ocean in Europa by magnetic field measurements, explanations for both the remarkable similarities and some differences between Earth and Moon, and an explanation for why Venus has no moon. His awards and honors include membership of the National Academy of Science, Fellow of the Royal Society (London), the Urey Prize (awarded by the American Astronomical Society) and the Hess Medal (awarded by the American Geophysical Union). On occasion, he has participated in advising movie and TV directors on the science in their productions