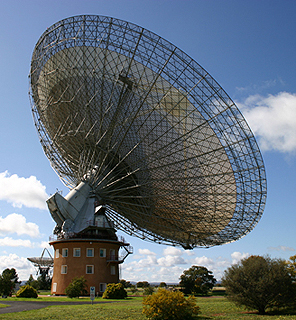 PARKES OBSERVATORY
FOUR-NIGHT PACKAGE & TWO-DAY TOUR
Includes eight meals, four hotel nights, all transportation and hotel transfers, and Observatory entrance fees
November 3–7, 2012 (pre-cruise)
($1,999 pp based on double occupancy; $2,599 single pricing; details here)
MacMania has prepared a pre-cruise expedition that adds a memorable dimension to your experience. If you'd like to get a flavor of elemental Australia, and boldly go where non-Ozzie tourists do not go, join MacMania for a visit to "The Bush" and "The Dish" (Australia Telescope National Facility, Parkes Observatory). After getting a look at the bright lights of Sydney, we head out to the quiet, sheep-studded New South Wales countryside to visit the famous Parkes Dish radio observatory. "The Dish" received and broadcast the first lunar landing, Apollo 11, to 600 million people.
To get a sense of significance of The Dish and the spirit of Parkes, check out the 2000 comedy movie: The Dish.

BOTANIC GARDENS AND TARONGA ZOO TOUR
FULL-DAY TOUR
November 6, 2012 (pre-cruise)
($299 pp; $199 as an add-on to the Parkes Observatory Tour, above)


Your adventure begins with a short transfer to the Royal Botanic Gardens in Sydney. Here you will embark upon a specialized tour to discover all that the Gardens have to offer.
After lunch we move to the Taronga Zoo where you will be met by Zoo Keepers and some of their friendly, cute, and cuddly counterparts before beginning your extended Australian Walkabout Tour. This is an exciting journey with an experienced guide, touring the Zoo's wonderful Australian animal displays. Also experience the Platypus Pools exhibit, which recreates the wonder of a Blue Mountains sandstone gorge, where you can see over 40 species of Australian animals and the "dinosaur tree", the Wollemi Pine. Enjoy a round-trip on Taronga's Sky Safari cable car, which provides fantastic views of the Zoo, Sydney Harbour, and the city skyline.
(Lunch not included. Extra fee to pet the animals.)

PRICING & GENERAL INFO.

Cruise prices vary from $1,899 for an Interior Stateroom to $7,299 for a Deluxe Suite, per person. (Cruise pricing is subject to change.) For those attending our PROGRAM, there is a $1,295 fee. For detailed information and pictures of our ship, please visit CABIN & SHIP INFO page. Additional per-person fees include: government taxes and fees ($246) and gratuities are $11.50 per day. All prices and fees are detailed on the BOOK NOW page.
For a detailed listing of the cruise itinerary please review our ITINERARY page.
Use our PRICING CALCULATOR for a quick price quote! For questions, please don't hestitate in calling InSightCruises.com (650-787-5665) or emailing us.

The conference fee is $1,295 and includes all 20 seminars below. You may take every class — i.e., there will be no overlap as only one class will be going on at any one time. Classes only take place when we're cruising, between 8:30am and 7:30pm.
SAL SOGHOIAN
LEO LAPORTE
DON MCALLISTER
ALLISON SHERIDAN
SPEAKERS
Leo Laporte
Don McAllister
Allison Sheridan
Sal Soghoian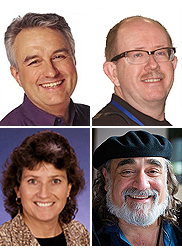 Speakers have confirmed their intent to participate; however, scheduling conflicts may arise.

GET THE PICTURE
WEATHER
Here was the weather for the corresponding days of our cruise, during the year indicated. Historical averages are from the mid '90s to current day.
Sydney 2008 2009 2010
Historical Averages
Brisbane 2008 2009 2010
Historical Averages
Hamilton Island 2008 2009 2010
Historical Averages
Nouméa 2008 2009 2010
Historical Averages