DAVID CORCORAN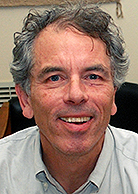 David Corcoran is the editor of Science Times, The New York Times's weekly science section. He joined The Times in September 1988 and has worked in a variety of positions, including education editor, deputy graphics director, deputy New Jersey editor, deputy Op-Ed editor and national editor for weekend news. In 2001 he edited The Times's special 150th-anniversary issue, From the Newspaper Age to the Information Age.
He came to The Times after a 19-year career at The Record, then in Hackensack, N.J., where he was chief news editor and, before that, editor of the editorial pages. In 1976–77 he was a journalism fellow at Stanford University.
Born in New York City, he grew up in Nyack, N.Y., graduated with a B.A. in English from Amherst College and taught English at Rockland Country Day School in Congers, N.Y., before joining The Record.
As a writer, he reviewed restaurants in New Jersey from 2000 to 2010 for the Sunday Times. His poetry has been published in Podium and Barrow Street. He lives in Nyack.
JOE NOCERA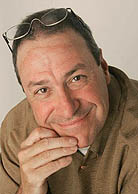 Joe Nocera is an Op-Ed columnist. Before joining The Opinion Pages in April 2011, he wrote the Talking Business column for The New York Times each Saturday and was a staff writer for The New York Times Magazine. In addition to his work at The Times, he serves as a regular business commentator for NPR's Weekend Edition with Scott Simon.
Before joining The Times in 2005, Mr. Nocera spent 10 years at Fortune Magazine, where he held a variety of positions, including contributing writer, editor-at-large and executive editor. His last position at Fortune was editorial director. He was the Profit Motive columnist at GQ until May 1995, and he wrote the same column for Esquire from 1988 until 1990. In the 1980's, he served as a contributing editor at Newsweek, as executive editor of New England Monthly and as senior editor at Texas Monthly. From 1978 until 1980, he was an editor at The Washington Monthly.
Mr. Nocera's column ranges widely over the world of business and finance, with a particular focus on the intersection of business and public policy. Slate magazine wrote that his Talking Business column, which ran in The Times for six years, "demystifies the world of business with original thinking, brainy reporting and the ability to see around corners."
Mr. Nocera has won three Gerald Loeb awards, including the 2008 award for commentary, and three John Hancock awards for excellence in business journalism. A 2007 Pulitzer finalist, he is the author of three books. A Piece of the Action: How the Middle Class Joined the Money Class (Touchstone, 1995), won the New York Public Library's 1995 Helen Bernstein Award as the best non-fiction book of the year. He has also written Good Guys and Bad Guys: Behind The Scenes With The Saints and Scoundrels of American Business (and Everything In Between) (Portfolio, 2008), and, most recently, All the Devils Are Here: The Hidden History of the Financial Crisis (Portfolio 2010), which he co-authored with Bethany McLean.
Mr. Nocera earned a B.S. in journalism from Boston University in 1974. He was born in Providence, Rhode Island on May 6, 1952, and lives in New York City.
To view Mr. Nocera's online bio, which includes links to his past published articles in the New York Times and videos of Mr. Nocera, please visit this page.
WILLIAM PAYNE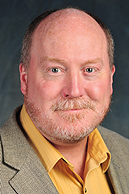 William Payne is currently a Professor of Theater and the Interim Dean of the School of Fine Arts at the University of Minnesota Duluth where he has taught directing, acting, new play development and theater liberal education courses for the last 18 years. He has been an active proponent of new approaches to liberal education and has integrated community-based learning strategies in innovative ways. Most recently he became the Interim Dean of the School of Fine Arts, where he is providing leadership in new approaches to arts education, international exchanges and collaborations, and a community-based movement to expand arts programming as economic development in downtown Duluth and the northern Minnesota region.
He is a co-founder and company member of the American Blues Theater Company of Chicago, which recently celebrated its 25th anniversary. He has been a professional director and producer for over 30 years with a special focus on the development and premiere of new plays, Latino theater and teaching and directing classic American drama for the early and mid-20th century. His directing credits include world premieres of Half of Plenty by Lisa Dillman (Chicago 2007); My Buddy Bill written and performed by Emmy Award winning author Rick Cleveland (Berkshire Theater Festival 2005); La Tectonica De Las Nubes (Cloud Tectonics) by Jose Rivera translated by Otto Minera at the Teatro Centro Hellenico (Mexico City 1999); and highly acclaimed productions of works by Eugene O'Neill, Sam Shepard, Thornton Wilder and Melanie Marnich. Bill received his MFA in Directing from Northwestern University in 1990.
Two of his productions have appeared at the Region 5 Kennedy Center American College Theater Festival, most recently Lloyd's Prayer (2004) by noted storyteller and playwright Kevin Kling. He has collaborated with celebrated playwrights, designers and actors in the professional theater for over thirty years.
Bill Payne is a Global Challenge Scholar for the American Democracy Project of the American Association of State Colleges and Universities and began creating Global Change courses at UMD in 2007. The online course Theater and Global Change was first offered by the New York Times Knowledge Network in the spring and fall of 2011. The course utilizes dramatic texts to explore the human impact of global trends transforming the way people live and work.
WILLIAM C. RHODEN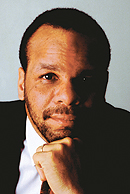 William C. Rhoden is a sports columnist for The New York Times, where he has been writing about sports since 1983.
He came to the paper in 1981 as a copy editor in the Week in Review section.
Before joining The Times, Mr. Rhoden spent more than three years with The Baltimore Sun as a columnist. Before that, he was associate editor of Ebony magazine from 1974 to 1978.
He attended Morgan State University in Baltimore and while there acted as assistant sports information director.
Mr. Rhoden is married and has a daughter.
DAN SCHNUR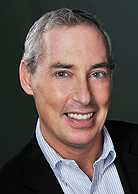 Dan Schnur is the Director of the Jesse M. Unruh Institute of Politics at the University of Southern California, where he works to motivate students to become active in the world of politics and encourage public officials to participate in the daily life of USC.
For years, Dan was one of California's leading political and media strategists, whose record includes work on four presidential and three gubernatorial campaigns. Schnur served as the national Director of Communications for the 2000 presidential campaign of U.S. Senator John McCain and spent five years as chief media spokesman for California Governor Pete Wilson. In 2010, Schnur was appointed as Chairman of the California Fair Political Practices Commission, a position he held through that year's elections and until spring of 2011.
In addition to his position at USC, Schnur is an Adjunct Instructor at the University of California at Berkeley's Institute of Governmental Studies. Schnur has also held the post of Visiting Fellow at the John F. Kennedy School of Government's Institute of Politics at Harvard University and taught an advanced course in political campaign communications at George Washington University's Graduate School of Political Management. In addition, he was the founder of the Center for Campaign Leadership, a non-partisan effort to equip young people with the skills essential for professional involvement in political campaigns.
He has served as an advisor to the William & Melinda Gates Foundation, the William and Flora Hewlett Foundation, the Broad Education Foundation, the James Irvine Foundation, and the Stuart Foundation on a variety of K-12 education, college and workforce preparedness, governance and political reform efforts. He is also the Co-Chairman of the Voices of Reform project, a bi-partisan statewide organization devoted to making state government more responsive to the needs of California voters.
Schnur writes a regular column for the New York Times' political opinion website, Campaign Stops. His commentaries have appeared in several California newspapers, including the Los Angeles Times, the San Francisco Chronicle and the Sacramento Bee. In addition, he has been an analyst and political commentator for CNN, MSNBC, Fox News, and National Public Radio.
Schnur is a graduate of the American University in Washington, D.C.
A. O. SCOTT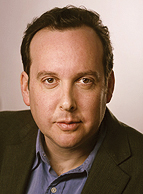 A. O. Scott joined The New York Times as a film critic in January 2000. Previously, Mr. Scott was a Sunday book reviewer for Newsday and a frequent contributor to Slate, The New York Review of Books and many other publications. He has served on the editorial staffs of Lingua Franca and The New York Review of Books. He also edited A Bolt from the Blue and Other Essays, a collection by Mary McCarthy, which was published by The New York Review of Books in 2002. In addition to his film-reviewing duties, Mr. Scott often writes for the Times Magazine and the Book Review. He was born on July 10, 1966, in Northampton, Massachusetts, and now lives in Brooklyn, New York with his wife and two children.