FOUR EXCURSIONS FOR TIMES JOURNEYS TRAVELERS
ATHENS
October 9, 2012 ($149* pp)
The Parthenon and its Acropolis setting are stunning, no doubt about it. They don't require interpretation and compose the perfect DIY Athens excursion. On the other hand, visiting the new Acropolis Museum and the National Archaeological Museum with a skilled guide who's on your wavelength adds immeasurably to the experience. We suggest you join us on a focused trip. You'll see the Parthenon frieze, exquisite sanctuary relics and Archaic sculpture at the Acropolis Museum (picture below; as you can see, the museum sits just below the Acropolis).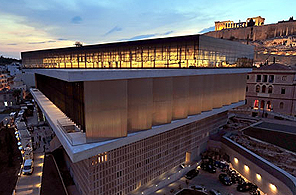 Lunch, of course, is tucked away at a taverna favored by Athenian families. For dessert, we'll visit the richest array of Greek antiquities anywhere — at the National Archaeological Museum.

ISTANBUL
October 10, 2012 ($69* pp)
Get your cultural bearings in Istanbul with a three-hour visit to touchstones of Istanbul's identity. Wrapped in Turkish twilight, we'll visit the Basilica Cistern, rich in Roman and Byzantine history and Greek architectural elements. We'll peruse the multitudinous vendors of the Grand Bazaar, now in its sixth century of tempting shoppers with jewelry, pottery, carpets and spices. On a short Bosphorus cruise we'll glimpse the beauty, romance and geographic significance of a city that spans continents, ages and cultures.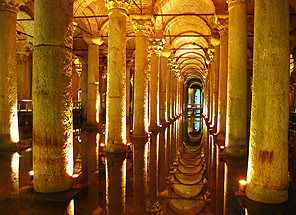 ISTANBUL
October 11, 2012 ($129* pp)
Istanbul is impossible to describe, and has mesmerized travelers for millennia. Layered, amalgamated, flowing. Ancient and modern, secular and sacred. Plunge into Istanbul's cultural whirlwind with our expert staff, who have been there, done that. On your itinerary: Hagia Sophia. It was the largest cathedral in the world for a thousand years, then a mosque, now a secular museum (so Istanbul). The Blue Mosque is defined by its 20,000 Iznik tiles. We'll peruse the sweets, spices and nuts at the Spice Bazaar. (A little hazelnut-pomegranate nougat, perhaps?)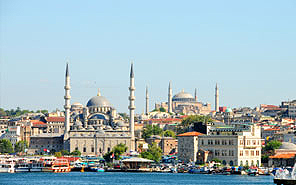 Onward to our learning lab in Turkish hospitality doing lunch at Topkapi Palace's former guard-house. Then we'll immerse ourselves in the context and treasures of Topkapi, including the Treasury, Harem and Holy Relics sections. Risking total sensory overload, we'll conclude our day at the Istanbul Archaeology Museum.

EPHESUS
October 13, 2012 ($129* pp)
Many civilizations have left their mark at Ephesus. It has a complex and many splendored history, often oversimplified. We pull together three important aspects of understanding Ephesus which are rarely presented together. Join us! You'll meander the Marble Road, visit the legendary latrines, check out the Library, and visit the political and commercial centers of the city. A visit to the Terrace Houses will enliven your picture of Roman-era Ephesus.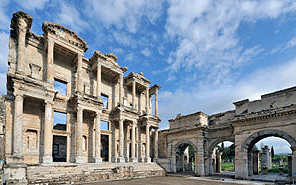 We'll take a break for Mediterranean cuisine in the Selcuk countryside, and then visit the Ephesus Museum in Selcuk, where finds from the excavation of the city are showcased, and you get a fuller look at local history, from the Lydians to the Byzantines.

*NOTE: The cost of lunch is not included but we'll make all of the reservations and provide all transportation.

CO-PRODUCER

SPEAKERS
David Corcoran
Joe Nocera
William Payne
William C. Rhoden
Dan Schnur
A.O. Scott

Speakers have confirmed their intent to participate; however, scheduling conflicts may arise.

PRE-CRUISE OPTION 1:
FLORENCE & TUSCANY
Sept. 30 – Oct. 5
Why does Florence capture the imagination and Tuscany linger in the memory? Ponder the question on location on a five-day, pre-cruise visit to the cradle of the Renaissance. Florence's art and architecture, an informed look at Leonardo da Vinci and Galileo's work, Lucca's cuisine, the elemental pleasures of the Tuscan countryside, and Pisa's cultural riches are our mileposts. Anchor your Times Journey cruise album with images of Tuscany when you join us on this optional sojourn.
PRE-CRUISE OPTION 2:
MILAN, PARMA, & BOLOGNA
Sept. 30 – Oct. 5
What says "Italy" to you? Sunshine and Roman ruins come to mind. Join your fellow Times Journeys travelers for a choice exploration of another Italy, home to many of Italy's iconic contributions to the world. We'll make a pre-cruise, optional five-day visit to Milan, Parma and Bologna on our way to our conference sailing from Venice. We'll partake of Milan's dynamism and delicacies, view "The Last Supper," explore the region's musical legacy, sample culinary specialties, take guided rambles through medieval cities and soak in Northern Italy's visual beauty. Join us in Milan and start the fun and wonder early!
WEATHER
Here was the weather for the corresponding days of our cruise, during the year indicated. Historical averages are from the late '90s to current day.
Venice, Italy 2008 2009 2010
Historical Averages
Tivat (Kotor),
Montenegro 2008 2009 2010
Historical Averages
Athens, Greece 2008 2009 2010
Historical Averages
Istanbul, Turkey 2008 2009 2010
Historical Averages
Mykonos, Greece 2008 2009 2010
Historical Averages
Izmir (Ephesus),
Turkey 2008 2009 2010
Historical Averages
Santorini (Island),
Greece 2008 2009 2010
Historical Averages
Split, Croatia 2008 2009 2010
Historical Averages

PRICING & GENERAL INFO.

Cruise prices vary from $1,799 for an Interior Stateroom (Better Interior shown) to $6,099 for a Deluxe Suite, per person. (Cruise pricing is subject to change.) For those attending our PROGRAM, there is a $1,575 fee. For detailed information and pictures of our ship and the cabins, please visit CABIN & SHIP INFO page. Government taxes and fees total $111 per person. Gratuities are $12 per person per day. All prices and fees are detailed on the BOOK NOW page.
For a detailed listing of the cruise itinerary please review our ITINERARY page.
Use our PRICING CALCULATOR for a quick price quote! For questions, please don't hestitate in calling InsightCruises.com (650-787-5665) or emailing us.

BROCHURES & VIDEOS
The program fee is $1,575 and includes all of the sessions below. Seminars only take place when we're at sea, between 8:30am and 7:30pm.
Seminars subject to change at the discretion of the speakers.
*Knowledge Network author.