PRE- and/or POST-CRUISE TOURS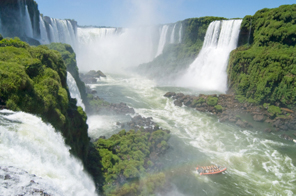 IGUAZU FALLS
Jan. 31, 2011 – Feb. 2, 2011
Surround yourself with 260 degrees of 240 foot-high walls of water at Iguazu Falls. Straddling the Argentinian-Brazilian border, Iguazu Falls is split into about 270 discrete falls and at peak flow has a surface area of 1.3 million square feet. (By comparison, Niagara Falls has a surface area of under 600,000 square feet.) Iguazu is famous for its panoramic views and breath-taking vistas of huge sprays of water, lush rainforest, and diverse wildlife.
We'll walk Iguazu National Park's extensive and well-engineered circuit paths over the Falls, go on a boat ride under the Falls, be bowled over by the massiveness and eco-beauty, and take a bazillion pictures.
On January 31, 2011, you'll fly from Buenos Aires to Iguazu, Argentina, staying for 2 nights at either the premium Sheraton Hotel (inside Iguazu National Park) or at the standard, Amerian Hotel. February 2, 2011, we'll fly back to Buenos Aires, and get geared up for MacMania 11.
The package prices below include domestic flights, flight taxes, hotel accommodations in Iguazu, hotel taxes, daily breakfast, transportation, and tours. The Sheraton Hotel-based package ranges from $1,235 to $1,425 per person for single occupancy, and from $927 to $1,015 per person for double occupancy. The Amerian Hotel-based package costs $948 for single occupancy and $786 per person for double occupany. (Prices here, and below, are subject to minor change.)

MACHU PICCHU
February 17–20, 2011
Scale the Andes and absorb Machu Picchu's aura. Visit this legendary site of the Inca World, draped over the Eastern slopes of the Peruvian, wrapped in mystery. Whether it was an estate for the Inca emperor Pachacuti or a site for astronomical calculations, it captures the imagination. Visit Machu Picchu, and see for yourself the massive polished dry-stone structures, the Intihuatana ("Hitching Post of the Sun"), the Temple of the Sun, and the Room of the Three Windows. Iconic ruins, rich flora and fauna, and incomparable views await your eye (and your lens).
You can opt for one of two packages: The Superior package provides housing at the San Agustin El Dorado Hotel in Cuzco, and at the Hatuchay Tower, Aguas Calientes. The Luxury package puts you up at the Monasterio Hotel in Cuzco, and at the Sanctuary Lodge directly adjacent to Machu Picchu.
All the package prices include hotel accomodations, hotel taxes, daily breakfast, one lunch in Machu Picchu, airport-hotel-airport transfers, Vista Dome train rides, tours, and guides. The Superior Machu Picchu tour package is $880 per person, single occupancy and $648 per person, double occupancy. The Luxury Machu Picchu tour package is $2,182 per person, single occupancy and $1,378 per person, double occupancy.

For pricing and details on the above packages, please download the pdf. Here is the order form (Excel spreadsheet).

SPEAKERS
Wally Cherwinski, Ph.D.
Wendy Cherwinski
Thomas Grollman, M.D.
Jan Jackson
Leo Laporte
Bill Lundell
Don McAllister
Sal Soghoian
Bebo White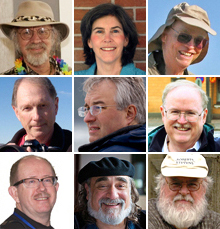 Speakers have confirmed their intent to participate; however, scheduling conflicts may arise.

PRICING & GENERAL INFO.

Cruise prices vary from $1,629 for an Interior Stateroom to $4,899 for a Deluxe Suite, per person. (Cruise pricing is subject to change. InSight Cruises will generally match the cruise pricing offered at the Holland America website at the time of booking.) For those attending our SEMINARS, there is a $1,095 fee. Taxes, Port Charges, and an InSight Cruises' fee are $259.20 per person. All prices and fees are detailed on the BOOK NOW page.
For a detailed listing of the cruise itinerary please review our ITINERARY page.
Use our PRICING CALCULATOR for a quick price quote! For questions, please don't hestitate in calling Neil Bauman at InSightCruises.com (650-787-5665) or emailing Neil.

BROCHURES, VIDEOS, & PICTURES