BARCELONA
POST-CRUISE OPTION:
December 6–9, 2013 (€1,049 pp)
Revel in the riches of Barcelona on a three-day, three-night visit. Absorb the city's unique blending of tradition and avant garde. Picasso, palaces, and Gaudi and Gothic sights are on the itinerary. We'll take in UNESCO sites, the flavors, colors, and sounds of Catalonia, a complex history, and Barcelona's essential appeal.
INSIDER'S TOUR OF CERN
PRE-CRUISE OPTION:
Private tour of CERN and luncheon
November 28, 2013 (pre-cruise) ($899 pp)
From the tiniest constituents of matter to the immensity of the cosmos, discover the wonders of science and technology at CERN. Join MacMania for a private pre-cruise, custom, full-day tour of this iconic facility. (If the LHC is still undergoing its scheduled maintenance it is likely we will go into the LHC Cavern.)
Whether you lean toward concept or application there's much to pique your curiousity. Discover the excitement of fundamental research and get a behind-the-scenes, insider's look at the world's largest particle physics laboratory.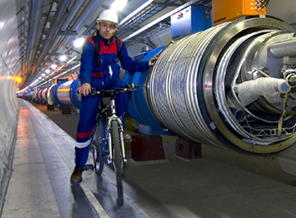 Our full day will be led one of our speakers (TBA) and by other CERN physicists. We'll have an orientation; visit an experiment; get a sense of the mechanics of the large hadron collider (LHC); if at all possible, go down inside the LHC tunnel (picture above); make a refueling stop for lunch; and have time to peruse the grounds and exhibits on the history of CERN and the nature of its work. And if you're so inclined, the CERN gift shop.
This tour includes:
transfer from Geneva airport to our hotel (November 26)
welcoming reception (November 26)
hotel (3 nights) — the nights of November 26, 27, and 28
full breakfasts (3) — November 27, 28, and 29
free day in Geneva; transfers to/from downtown provided (November 27)
transfer from hotel to CERN and back to the hotel on November 28
lunch at CERN (November 28)
cocktail party the evening after our visit to CERN (November 28)
transfer (2 hours by bus) from Geneva to our ship (November 29)
NOTE: CERN charges no entrance fee to visitors
The price is $899 per person (based on double occupancy). Subtract $100 pp if you come in one day early on November 27. This trip is limited to 50 people. (Pictures from a previous trip.)

PRICING & GENERAL INFO.

The cruise fares start at $2,799 for a Category E. French Balcony cabins start at $3,378. A Junior Suite is available for $4,498. Cruise fares include six half-day excursions (see two-column box directly above). For those attending our PROGRAM, there is a $1,395 fee. For detailed information and pictures of our ship, please visit CABIN & SHIP INFO page. Additional per-person fees include: government taxes and fees ($147) and gratuities are €15 per day. All prices and fees are detailed on the BOOK NOW page.
For a detailed listing of the cruise itinerary please review our ITINERARY page.
Use our PRICING CALCULATOR for a quick price quote! For questions, please don't hestitate in calling InsightCruises.com (650-787-5665) or emailing us.

BROCHURES & VIDEOS
| | | |
| --- | --- | --- |
| | | Never cruised with AMAWaterways? Watch this (one minute, 20 seconds) |
| | | The AMAWaterways experience (three minutes, 30 seconds) |
| | | The AMAWaterways ships (one minute, 56 seconds) |
| | | The AMAWaterways tours (one minute, 45 seconds) |
| | | The AMAWaterways gourmet food (43 seconds) |
| | | Download the AmaDiago 2-page deckplan |
| | | |
WEATHER
Here was the weather for the corresponding days of our cruise, during the year indicated. Historical averages are from the mid '90s to current day.
Paris 2010 2011 2012
Historical Averages
Lyon, France 2010 2011 2012
Historical Averages
Arles, France 2010 2011 2012
Historical Averages
Barcelona 2010 2011 2012
Historical Averages

SPEAKERS
Lex Friedman
Joe Kissell
Lynne Lancaster, Ph.D.
Sal Soghoian

Speakers have confirmed their intent to participate; however, scheduling conflicts may arise.

The conference fee is $1,395 and includes all 16 seminars below. Classes only take place when we're cruising, between 8:30am and 7:30pm.
SAL SOGHOIAN
LEX FRIEDMAN
JOE KISSELL
LYNNE LANCASTER, PH.D.