SIX LAND-BASED DAY TRIPS ...
INSIDER'S TOUR OF CERN
Private tour of CERN and luncheon
October 23, 2012 (pre-cruise) ($899* pp)
From the tiniest constituents of matter to the immensity of the cosmos, discover the wonders of science and technology at CERN. Join Bright Horizons for a private pre-cruise, custom, full-day tour of this iconic facility.
Whether you lean toward concept or application there's much to pique your curiousity. Discover the excitement of fundamental research and get a behind-the-scenes, insider's look of the world's largest particle physics laboratory.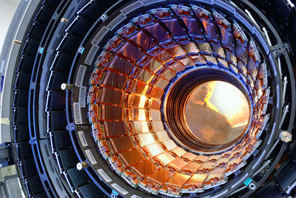 Our full day will be led by a CERN physicist. We'll have an orientation; visit an accelerator and experiment; get a sense of the mechanics of the large hadron collider (LHC); make a refueling stop for lunch; and have time to peruse exhibits and media on the history of CERN and the nature of its work.
This tour includes:
transfer from airport to our Geneva hotel on the October 21
hotel (3 nights) — the nights of October 21, 22, and 23
full breakfasts (3) — October 22, 23, and 24
free day in Geneva; transfers to/from downtown provided (October 22)
transfer from hotel to CERN and back to the hotel on October 23
lunch at CERN
cocktail party the evening after our visit to CERN (October 23)
bus transfer from Geneva, Switzerland to our Genoa, Italy hotel (October 24)
NOTE: CERN charges no entrance fee to visitors
*The price is $899 per person (based on double occupancy) for the three-night package. Deduct $100 per person for just two nights (and arrive Geneva on Oct. 22 for two nights). This trip is limited to 50 people. (Pictures from our October 2010 trip.)

EPHESUS
November 1, 2012 ($129** pp)
Many civilizations have left their mark at Ephesus. It's a complex and many splendored history, often oversimplified. Bright Horizons pulls together three important aspects of understanding Ephesus which are rarely presented together. Join us! You'll meander the Marble Road, visit the legendary latrines, check out the Library, and visit the political and commercial centers of the city. A visit to the Terrace Houses will enliven your picture of Roman era Ephesus.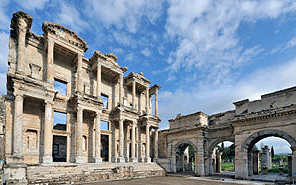 We'll take a break for Mediterranean cuisine in the Selcuk countryside, and then visit the Ephesus Museum in Selcuk, where finds from the excavation of the city are showcased, and you get a fuller look at local history, from the Lydians to the Byzantines.

ATHENS
November 2, 2012 ($149** pp)
The Parthenon and its Acropolis setting are stunning, no doubt about it. They don't require interpretation, and compose the perfect DIY Athens excursion. On the other hand, visiting the new Acropolis Museum and the National Archaeological Museum with a skilled guide who's on your wavelength adds immeasurably to the experience. We suggest you join Bright Horizons on a focused trip. You'll see the Parthenon frieze, exquisite sanctuary relics, and Archaic sculpture at the Acropolis Museum (picture below; as you can see, the museum sits just below the Acropolis).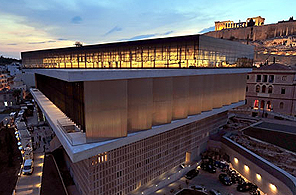 Lunch, of course, is tucked away at a taverna favored by Athenian families. For dessert, we'll visit the richest array of Greek antiquities anywhere — at the National Archaeological Museum.

VATICAN OBSERVATORY
November 5, 2012 (post-cruise) ($399 pp)
When in Rome, do as the Romans who are astronomy buffs wish they could do—visit to the new digs of the Vatican Observatory and get a privileged look at its world-class meteorite collection. Join Bright Horizons on an optional post-cruise trip to Castel Gandolfo, Italy on a private insider's tour of the Observatory's laboratory, home to a 135 kg collection of 1081 samples, from 469 meteor falls. See a bit of Mars on your Mediterranean trip!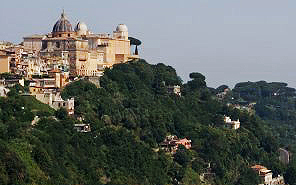 Perhaps almost more intriguing is the Observatory's library. We'll browse over the shoulders of giants, seeing historic and antique astronomy books including early editions of Newton, Copernicus, Galileo, Kepler, Brahe, Clavius, and Secchi. VO astronomers will brief us on the Vatican's interest in astronomy and the latest on VO research at Steward Observatory, Mount Graham, Arizona. We'll lunch on the shores of Lake Albano, an extinct volcano, and linger to enjoy the scenic and historic nature of the Castel Gandolfo area before returning to the bustle of Rome. (This trip is limited to 20 people; gourmet lunch included as well as roundtrip transfers to/from our Rome hotels.)
**NOTE: The cost of lunches are not included (except with the Vatican Observatory trip) but we'll make all of the reservations and provide all transportation.

... SIX LAND-BASED DAY TRIPS (Continued from column 1)
HAIFA
Including a private tour of the Technion
October 29, 2012 ($225* pp)
Perched on the Mediterranean, the Haifa region encapsules the ancient history and cutting edge science, cultures and beliefs that say "Israel." Get a context for Israel on a full day visit equal parts cultural introduction and science field trip.
Whether you lean toward concept or application there's much to pique your curiousity. Discover the excitement of fundamental research and get a behind-the-scenes, insider's look of the world's largest particle physics laboratory.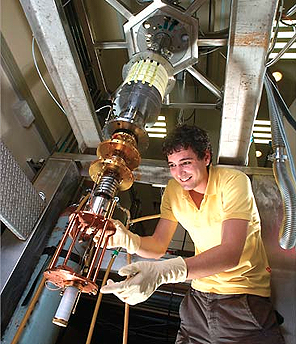 We start our full day with a nod to the spiritual at the golden-domed Bahai Shrine, the world center of the Bahai faith renown for 19 stunningly landscaped terrace gardens, and a UNESCO World Heritage site. Off next to the Technion, where Yohay Carmel, Ph.D. Professor of Civil and Environmental Engineering at the Technion (Israel Institute of Technology), along with some of his Technion associates, will direct our private "insiders" tour of the Technion campus and research facilities. We'll do a simple lunch in Haifa, and drive to Mount Carmel National Park, in UNESCO Biosphere Reserve Mount Carmel, where 12,000 acres burned in December 2010, to bring to life Dr. Carmel's talk about mega-wildfires. We'll drive through the Hai Bar Carmel Wildlife Reserve which was also damaged by the fire and which is home to rare Persian fallow and roe deer, Armenian sheep, gazelles, and Griffon vultures. Crusader and Ottoman history round out our agenda, as we'll visit the UNESCO World Heritage Old City of Acre which was the capital of the Crusader kingdom of Jerusalem. A well-preserved Ottoman walled town sits on top of Crusader structures. We'll explore Old Acre's Knights' Hall and underground passages and head back to our base aboard ship.

ASHDOD
October 30, 2012 ($225* pp)
Location, location, location. Jerusalem's got it, as one of the oldest continuously occupied cities in the world, an axis mundi whose ownership has been hotly contested throughout its history (destroyed twice, besieged 23 times, attacked 52 times, and captured and recaptured 44 times.) Delve into a 3,000-year span of Jerusalem's complex archaeology in a full-day look at key sites in the region. We'll survey the terrain with a breathtaking view of Jerusalem from an observation point overlooking the city. Onward to the City of David excavation, the actual site of the city King David captured and made his capital about 3000 years ago. Among the archaeological sites we'll see in these excavations are the Royal Quarter area, Hezekiah's Tunnel and Warren's Shaft.
Onward into the Old City and the Western Wall, Judaism's most sacred site, to look at the monumental Herodian ashlar stones. We'll study the Western Wall Tunnel, a Hasmonean/Herodian era street that ran parallel to the wall around the Temple Mount (tunnel schedule permitting), emerging to walk through the reconstructed Jewish Quarter including the Cardo, Byzantine Jerusalem's main shopping street. After lunch at a local restaurant, we drive off to Herodium near Bethlehem in the West Bank, Herod's man-made hill fortress and his burial site. We'll explore this palace/fortress and its massive circular double wall with 4 round towers.
If time permits we'll head to Bethlehem to visit Manger Square as well as the Church and Grotto of the Nativity before returning to Ashdod port.
*NOTE: The cost of lunches are not included but we'll make all of the reservations and provide all transportation.

SPEAKERS
Yohay Carmel, Ph.D.
David Lunney, Ph.D.
Stephen Macknik, Ph.D.
Susana Martinez-Conde, Ph.D.
Jeanette Norden, Ph.D.
Chris Stringer, Ph.D.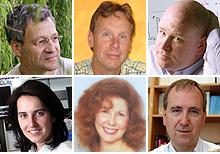 Speakers have confirmed their intent to participate; however, scheduling conflicts may arise.

PRICING & GENERAL INFO.

Cruise prices vary from $1,299 for an Interior Stateroom to $4,499 for a Grand Suite, per person. (Cruise pricing is subject to change.) For those attending our PROGRAM, there is a $1,475 fee. Government taxes, port fees, and Insight Cruises' service charge are $299 per person. Gratuities are $11 per person per day. All prices and fees are detailed on the BOOK NOW page.
For a detailed listing of the cruise itinerary please review our ITINERARY page. Use our PRICING CALCULATOR for a quick price quote! For questions, please don't hestitate in calling InsightCruises.com (650-787-5665) or emailing us.

GET THE PICTURE
The conference fee is $1,475 and includes all 27 hours of seminars below. With two partial exceptions, classes only take place when we're at sea, between 8:30am and 7:30pm.
CHRIS STRINGER, PH.D.
JEANETTE NORDEN, PH.D.
DAVID LUNNEY, PH.D.
YOHAY CARMEL, PH.D.
STEPHEN MACKNIK, PH.D. & SUSANA MARTINEZ-CONDE, PH.D.
WEATHER
Here was the weather for the corresponding days of our cruise, during the year indicated. Historical averages are from the mid '90s to current day.
Genoa, Italy 2008 2009 2010
Historical Averages
Katakolon, Greece 2008 2009 2010
Historical Averages
Haifa, Israel 2010
Tel Aviv, Israel 2008 2009 2010
Historical Averages
Izmir, Turkey 2008 2009 2010
Historical Averages
Athens, Greece 2008 2009 2010
Historical Averages
Rome, Italy 2008 2009 2010
Historical Averages